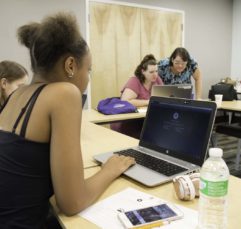 What started as an inkling
Our mission was born in February 2017 when Digital Bridges Pittsburgh was established as an organization, being accepted for Fiscal Sponsorship by New Sun Rising. We embrace digital literacy and business skills technology as a means to help people prosper. Our programs encompass a modern day "teach a (wo)man to fish" philosphy.
Upon our foundation we began teaching workshops as a way to create immediate impact with introductory "light-touch" content that is practical and easily applied outside the classroom.
This was also a means to begin creating the curriculum for our youth program.
Total of 78 Served in 2017-2018
 Together We Tech/The Age Friendly Challenge

So You Want to Be a YouTube Star

Brand You: Protect and Promote

Organizing and Visualizing Your Data

Social Media Unlocked
Making a Greater Hazelwood
We are excited to participate in the Making a Greater Hazelwood Mini-grant cohort, currently in its second year. 
The Business of You(th) is currently running at the Hazelwood Library Wednesday's from 4-5.
Our signature program combines the benefits of individual coaching with group learning and activities focused on areas which have been identified as common skill gaps. 
Total of 27 served in 2018-2019 School Year
Mentorship Pilot with JADA House International in 2018 Served 12 Youth
Created 12 individual mentee career plans using SmartFutures software.

Helped with homework- leading to increased grades, high-school graduation for 4 members, and acceptance at CCAC for 2 members.

Helped participants job hunt and seek internships resulting in 3 new jobs and 1 new internship. 

Taught and instilled emotional intelligence in participants with demonstrable progress in communication skills.
Instruction in Partnership with Auberle
Google IT Support Certification:
Students gain skills needed to enter the workforce in an IT Support Specialist (or similar) job. Classes are held Tuesday and Thursday from 5-7pm. Currently serving ~12 youth. 
SMARTER
Students ages 17-24 participate in this 5 badge program that introduces learners to the basic concepts and skills involved in building robots. Classes are held Monday from 3-6 pm.
Yates Dreamz Event Planning
This summer we have had the privilege to help Chris (16) and Esaun (12) to create their business Yates Dreamz. Yates Dreamz is an event planning business run by Chris and Esaun. These two amazing young men have already handled several parties and banquets in their journey as young entrepreneurs. Over the course of the summer we met twice weekly to work on their business. 
Chris and Esaun are rockstarts- They have demonstrated a high level of enthusiasm for their project and accomplished the following milestones:
Establishing brand colors

Creation of business logo

Creation of business flyer

Creation of business cards

Creation of social media channels

Organized pictures from their work for use in social media and marketing

Working on business website (to be launched fall 2019)

Creation of business plan including current goals, roles and responsibilities, financial decisions and quotes, and growth goals for the future. 
In addition to business milestones Chris and Esaun learned about:
Prospecting: Talking to potential customers, getting customer information, the value of following up with potential customers.

 Working with partners and taking feedback. 

How to organize photos for use on website, flyers, and social media. 

How to create a business Facebook page.

How to create social media posts. 

How to do research for your business plan. 
Chris and Esaun also have the opportunity to advance their business by earning items for their business (i.e. purchase of business cards, website hosting for the year) by assisting Digital Bridges as interns. These two enthusiastic young men are poised for success as they continue to grow their business. 
Please see: https://www.facebook.com/Yatesdreamz/